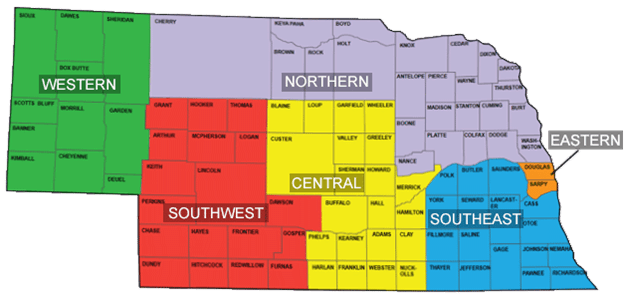 Southeast District Health Department is a member of the Nebraska Lifespan Respite Network.
Our Respite Coordinator supports respite services in 16 counties in Southeast Nebraska-- Polk, Butler, Saunders, York, Seward, Lancaster, Cass, Otoe, Fillmore, Saline, Thayer, Jefferson, Gage, Johnson, Nemaha, Pawnee, and Richardson.
Apply for Respite Care
The Nebraska Lifespan Respite Subsidy pays for respite services to give the family caregiver a break. Respite means short-term relief to family caregivers from the demands of ongoing care for an individual with special needs. Getting respite care is important for your health and for your ability to continue to care for your loved one.
Respite may be provided in the care receiver's home or other caregiver-approved location. Families choose their own providers.
Lifespan Respite subsidy provides up to $125 per client, per month.
Lifespan respite will only provide services that are not covered through Medicaid services or other programs.
The Respite Coordinator can support families in applying for and utilizing respite services, as well as assist in finding a provider. To apply for the Lifespan Respite Subsidy, complete an application and return it to the local respite coordinator or submit it to DHHS.respite@nebraska.gov. Mailing Address: P.O. Box 98933 Lincoln, NE 68509-8933. 
Lifespan Respite Subsidy Application (Spanish)
Sometimes life throws us a curveball. If you are in need of crisis or exceptional-need funding for respite you can request additional funding by submitting a funding request for exceptional circumstances. 
Lifespan Respite Subsidy - Funding Request for Exceptional Circumstances Form
Become a Respite Provider
Providing respite care is a rewarding and essential job! Providers can make their own hours and earn money while helping caregivers who need a break. Nebraska Lifespan Respite Network provides free background checks and an online Provider Orientation. We need providers in all counties in our region.
Community-based organizations like arts and education programs can also be respite providers, as well as agencies that provide skilled care. The Nebraska Resource Referral System (NRRS) is a database that can be used to find respite providers. Nebraska Lifespan Respite Network would like to include your organization on the NRRS database and support you in getting set up as a partner agency.
Link to Individual Provider Application
Link to Agency Provider Application
Join Our Advisory Committee
Nebraska Lifespan Respite Network Advisory Committees are crucial to networking and continuous program improvement. Our Southeast region advisory committee meets over zoom monthly (or every other month). We are currently recruiting new members and welcome diverse perspectives from those with lived experience as a caregiver to social workers and professionals in related fields to community members who have an interest in supporting and informing the Lifespan Respite program. Serving on an advisory committee is meaningful work that is mutually beneficial as it allows members to network and collaborates while informing programming and outreach. Please contact our respite coordinator if you'd like to know more about joining our advisory committee.
Call the Nebraska Lifespan Respite Network to speak with a Respite Coordinator: 1- 866-RESPITE (1 - 866-737-7483)
Resources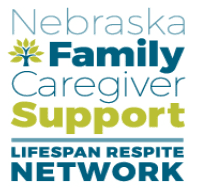 Forms