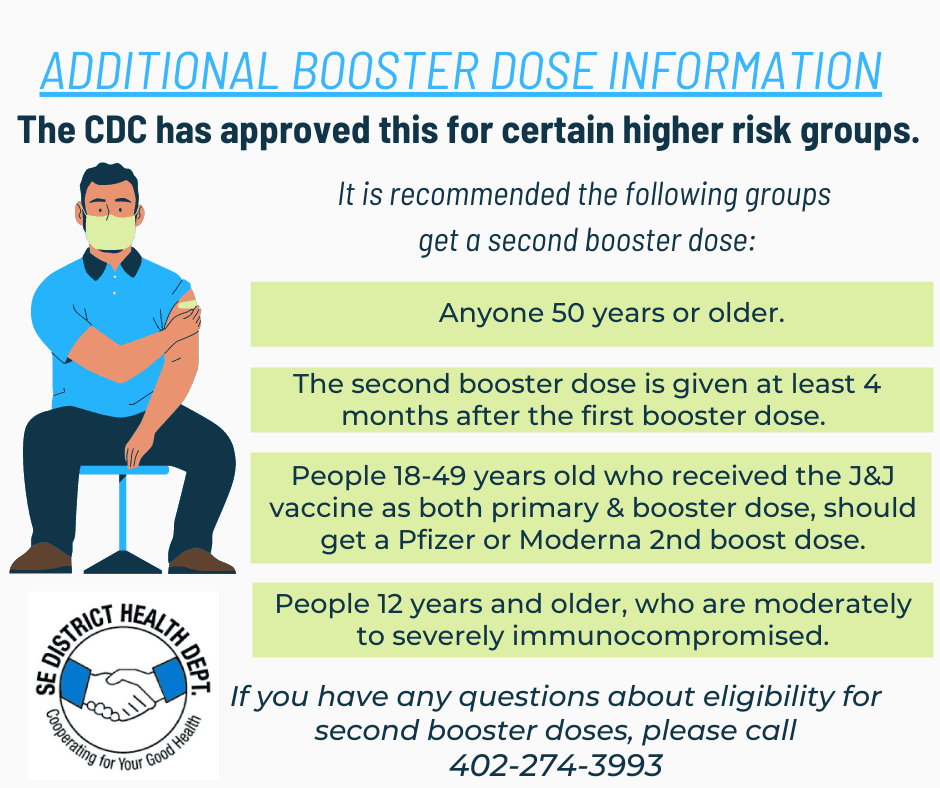 It is recommended that the following groups get a second booster dose
Anyone 50 years and older

The second booster dose is given at least 4 months after the first booster dose.

People 18-49 years old who received the J&J vaccine as both primary and booster dose, should get a Pfizer or Moderna boost dose.
Individuals who plan to attend this MUST:
Be at least 90 days past receiving a monoclonal antibody treatment for COVID-19.

Bring your vaccine card.

Be at least 4 months after their first booster dose.

Wear a mask

If under the age of 19, a parent/legal guardian must be present, at the clinic for consent. (Pfizer, now eligible for 5 years of age and older)

Bring your insurance card to submit a claim. No insurance? We can still help you receive the vaccine. No out-of-pocket expense/cost to receive a COVID-19 vaccine.
COVID-19 Information and Resources
Governor Pete Ricketts announced the end of Nebraska's coronavirus state of emergency. The Governor issued the state of emergency declaration on March 13, 2020. It officially ends at 11:59 PM on Wednesday, June 30, 2021. Gov. Ricketts also announced that the Test Nebraska program will conclude by the end of July. The last day specimens will be collected through Test Nebraska sites was July 18, 2021.
Helpful Links:
Central Navigator contact:
Blue Valley CYI Collena Laschanzky

402-729-6510 | claschanzky@bvca.net Polk, Butler, York, Seward, Fillmore, Saline, Thayer, Jefferson, Gage, Cass, Otoe, Johnson, Nemaha, Pawnee, Richardson
Follow on Facebook for updates:
Basic Needs
Nebraska 211 keeps an accurate and comprehensive database that you can use to find health and human services to meet your needs.
Southeast Nebraska Community Action (SENCA)
Johnson County 402-335-2134

Nemaha County 402-274-4666

Pawnee County 402-852-2208

Richardson County 402-245-5284
Financial Assistance
Food Security
402-335-2988 | Tecumseh (Main Office) Serves Johnson, Nemaha, Otoe, Pawnee, and Richardson Counties. We provide healthy food at no cost, breastfeeding support, nutrition information, and referrals to about 38,000 people across the state each month.

SNAP assists households with limited assets and income to buy the food they need for good health. Households qualify for SNAP benefits based on available household assets, income and certain expenses. If the household is eligible, SNAP benefits are placed on an Electronic Benefits Transfer (EBT) card for the household to buy food. If a SNAP recipient reports a layoff or if they have applied for unemployment due to COVID-19, they would be considered exempt from work requirements

We are continuing Meals on Wheels. Meals will still be delivered to client's homes. Meals will be left at the front door. We ask that if you have mobility problems, you leave a small table or chair outside your front door and we will leave the meal there. When meals are delivered, volunteers will ring and/or knock and leave.

All items delivered with the Meal will be disposable.

If you would like more information on receiving Meals on Wheels, please contact the Senior Center at (402) 274-4677 during our normal operating hours. We ask for the following donation per meal: 60 years and older: $4.00; 59 and under $5.50
Unemployment
COVID-19 specific mental health tips
Childcare